Deck Staining in East Weymouth, Massachusetts
Menjivar's Painting is proud to offer deck staining and deck restoration in East Weymouth, Massachusetts.
Sun exposure, wind, and rain can damage the surface of your East Weymouth, Massachusetts deck in no time! UV rays and moisture can damage deck surfaces that have lost their protective seal. let the experts at Menjivar's Painting restore your deck's beauty and protect your investment. Menjivar's Painting's East Weymouth, Massachusetts deck staining specialists have years of experience in caring for decks.
---
Call for a FREE Quote
---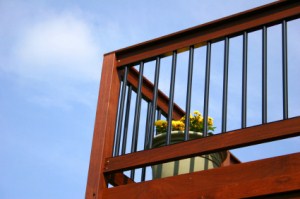 East Weymouth Deck Staining Preparation
No deck staining job in East Weymouth is too big or too small. Menjivar's Painting will prepare your deck in its entirety prior to staining or painting:
First, we will thoroughly pressure wash the deck, ensuring that all dirt, mildew, moss, and any damaged surface wood fibers have been carefully cleaned leaving behind a smooth, ready-for-stain surface.
Rough areas are sanded as needed to restore a smooth finish.
Then, Menjivar's Painting will then help you choose the right stain or paint to compliment your home and landscaping.
Finally, we carefully apply one or more coatings of high-grade paint or stain that can withstand the damaging heat and UV of the summer sun, the cold of winter, and regular exposure to moisture.
Rest assured your East Weymouth deck staining project is in good hands with the high-quality painters at Menjivar's Painting. We have been staining and painting decks in East Weymouth for over 25 years, and we look forward to enhancing yours! Call (781) 776-1997.
Menjivar's Painting Can Stain Any Deck in East Weymouth!
Menjivar's Painting's 25 years of experience allow us to be prepared to stain any East Weymouth deck. We offer affordable services to our clientele that are always completed in a timely manner. Menjivar's Painting can help your deck look great and be the envy of the neighborhood, so give us a call at (781) 776-1997 to get started on your East Weymouth deck staining project
---
Call for FREE Deck Staining Quote
---
WHAT CUSTOMERS ARE SAYING:
5★★★★★ - "Victor stained the railing of my deck and now it looks awesome! He did a great job accomodating my timing needs and color choices. I will definitely hire him again!! ...Victor stained the railing of my deck and now it looks awesome! He did a great job accomodating my timing needs and color choices. I will definitely hire him again!! Thank you Victor and crew."

Daniela Di Candia, Deck Staining in Revere, MA

2015-08-31

5★★★★★ - "They patched all the cracks, smoothed out the walls and did every thing professionally with a reasonable price. They also finished the job 2 days ahead of promised time."

Billy N., Painting / Staining in Revere, MA

2013-12-05

5★★★★★ - "Victor Menjivar called me immediately, set up an appointment to view the job within 24 hours. He arrived exactly at the correct time and provided a great price for the job. Job was completed as scheduled and perfect!!"

Sal and Gale P., Deck Staining in Winthrop, MA

2013-06-17

5★★★★★ - "Victor and team have completed several painting jobs (inside and out) for us to update our historic home in Charlestown. They always go above and beyond and quality is top notch. They are hard working, efficient and have great attention to detail. Highly recommend Victor and team for all of your painting needs!"

Emily S., Painting in Revere, MA

2023-06-29

5★★★★★ - "Victor and his crew did an amazing job! They were quick and efficient. I look forward to working with them in the future. I would definitely recommend this business!
Kristi,
Lynn, MA"

Kristi, Painting in Lynn, MA

2023-06-01

5★★★★★ - "Victor is fantastic to work with. He is responsive, knowledgeable and skilled. He and his team painted the first and second floor of the home we just bought, and it looks like a brand new house. We are so happy. Highly recommended!!"

Ashley R., Interior Painting in Malden, MA

2022-04-04

5★★★★★ - "Victor was awesome with the communication from the very beginning, and stuck with the timeframe that he originally suggested. He and a partner came over, scraped the old paint, primed the wood, and finished the job in just a few days. They ran into some rotted wood which Victor very generously repaired. Overall we couldn't be happier with the quality of the work and the overall cost. Thanks!"

David C, House Painting in Revere, MA

2021-04-12

5★★★★★ - "Victor and his crew were very professional and skillful. They always arrived on time and completed the project on time, even when we asked the crew to add a little bit more into the scope of project. The team repaired various dry walls and repainted the whole second floor, and some in first floor. Victor is very knowledgeable on his work, and her offers easy solution with reasonable pricing. Would like to hire them again in the summer for another project."

N.H., Interior Painting in Revere, MA

2021-03-22

5★★★★★ - "Victor and his team did an amazing job patching and painting my ceiling that spans the hallway, kitchen and dining/living room (open concept). They arrived right on time with masks on and quickly had all of my furniture protected from the job with plastic. I worked from my bedroom and barely knew they were there. When the job was finished, they removed all of the plastic and drop cloths, debris and were on their way. My ceiling looks beautiful! I told victor that I will recommend him to anyone I know that needs a painter. Victor and his team are true professionals! I highly recommend them."

Carol V., Ceiling Painting in Everett, MA

2021-03-01

5★★★★★ - "Victor and his crew were a pleasure to work with. Along with Harrison, Fred, and Mario, these guys are hard-working and no-nonsense. They did exactly what they agreed to on paper and details verbally discussed. We asked them to do some extra stuff that was billed very reasonably and some they didn't even charge for like eradicating a beehive (esp. navispero) on the third floor. They do like Dunkin Donuts large ice coffees (cream and sugar), and bagel bites at 9/9:30."

Joshua C., Exterior Painting in Needham, MA

2020-10-05

5★★★★★ - "I am extremely satisfied with Menjivar and his crew. They are very professional and considerate. Always on time, very clean and you don't even notice them being at home with you painting. They did a great job and even helped with extra handy work for free. I used them for 2 different projects and I plan to hire them again. I highly recommend them."

Amel K., Painting in Revere, MA

2020-08-21

5★★★★★ - "Victor and his crew did a great job. They did plaster repair in several places, painted radiators, and basically painted my 2200 sq ft house from top to bottom - it was a big job. I added an additional room to job and there was no problem ... he was very flexible. Victor was always reachable and answered any questions I had... very easy to work with. I would highly recommend him and am hoping to have him help me with another project at another house this fall. Five stars (and those don't come very easily from me)!! Thanks Victor!!"

Heather in Marblehead, MA

2020-07-16

5★★★★★ - "Menjivar's Painting did a really fantastic job! Victor was responsive, reasonably priced and able to get the job done quickly and beautifully. The crew painted the interior of my condo as well as the deck and front steps. Everything looks clean and fresh, I would hire them again in a heartbeat."

Jen C., Interior Painting in Revere, MA

2020-05-26

5★★★★★ - "We recently had Victor and team complete a few painting projects in our home and could not be happier - we had a ceiling repaired & painted, built-in cabinets painted as well as our front steps painted. All projects were completed flawlessly - Victor and team worked efficiently to complete everything within a day, and yet paid attention to the smallest of details. They also ensured to thoroughly clean each space when they were done which was a great bonus - Will definitely hire Victor again for any painting needs!"

Emily, House Painting in Revere, MA

2020-05-11

5★★★★★ - "My wife and I hired Victor and his team for a few projects in our newly purchased house. They did an amazing job painting the dining room, fixing nail and hook holes in the living room wall and then painting the living room with a new color. Their workmanship is incredible, there were no drips or stains and all the trim was pristine. They even tidied up afterward and put the furniture back to their original places. My wife and I couldn't be happier, and we will definitely hire them again."

Ashwin, Interior Painting in Stoughton, MA

2020-02-06

5★★★★★ - "I have hired Victor and his team in the past but now needed a huge job to be done as I just moved to Hingham and when the previous owners moved all their things out it became apparent that every room needed repair work and painting. I can't say enough good things about the fabulous work Victor has done. They repaired the walls and painted six rooms and two hallways and the staircase in three days all with absolute perfection. They arrived by 7:30 each day and kept going with barely a break. Furniture was moved and everything was carefully protected. Several of the rooms used multiple colors and contrasting trim. There is not one mistake and the spaces were cleaned and put back together perfectly. All at a very reasonable price. I couldn't be happier"

Amy, Interior Painting in Hingham, MA

2019-10-04

5★★★★★ - "Victor and his team were true professionals. We required a drywall patch and paint job on one wall of our bedroom. They responded to my inquiry immediately, came by our place for a quick assessment of work, provided an estimate, and were back a few days later to complete the job. The paint job looks great and the area was kept clean. They were super friendly, punctual, and fair priced. From the time of my initial inquiry to the time of the job, completion was about 1 week. You can't beat that! We'll definitely be working with them again in the future!"

homeowner, Interior Painting in Milton, MA

2019-04-10

5★★★★★ - "If your looking for professional painters look no further. Menjivar's Painting is prompt, timely and reasonably priced. Perfection in painting and clean up. A real pleasure to work with."

Meredith G., Painting in Milton, MA

2019-03-18

5★★★★★ - "Victor and his crew removed and replaced with drywall two plaster ceilings in our home. He was easy to schedule with, worked efficiently and neatly and did a great job. We asked him to do a bit more as the project progressed and he was able to accommodate this. Very fairly priced compared to the two other quotes we received. I would highly recommend his services."

Jillian N., Drywall Repair in Cambridge, MA

2018-04-26

5★★★★★ - "Absolutely amazing experience! Victor and his crew did a beautiful job on my kitchen cabinets and they transformed a wreck of a wall into perfection. They were also always prompt and respectful and I highly recommend them for any painting job."

Tina in Revere, MA

5★★★★★ - "Victor and his team were professional, quick and made the cabinets in my kitchen look brand new."

Elaine Harvey in Milton, MA

5★★★★★ - "I am over 67 years old been around many painters however company is a eleven on a ten scale. Clean courtesy on time work all day every day until job is done. See something let them know it's done. They all say you see something let us know. GREAT GREAT GREAT I found my interior painter for rest of time. Covers and over covers everything."

Leo, Painting in Revere, MA

2017-04-03

5★★★★★ - "Victor Menjivar and his crew did a fantastic job painting our house. We've worked with several other painters in the past, but Victor is truly the best. His estimate was extremely competitive and his work was second to none. While many contractors fail to deliver on promises and often show up late, Victor arrived like clockwork, was extremely communicative and responsive, and above all, his attention to detail and craftsmanship was awesome. We'd be happy to hire Menjivar's Painting again and cannot recommend them highly enough."

Travis and Quin, House Painting in Hyde Park, MA

5★★★★★ - "Victor was courteous to us when he explained the job, and was able to reassure my husband who was worried about how the paint would last. He explained that he would start with an oil based primer, and come back in a few days to finish. His two workers were prompt, courteous, thorough, and did a good job. Victor kept in touch about the schedule for our job, and I would highly recommend his company. I am very glad I found him, and will definitely call upon him in the future, and have already told others about him."

Lynn M. in Chelsea, MA

2015-12-14

5★★★★★ - "I highly recommend Menjivar's Painting! I couldn't be more happy. My kitchen and bedroom had layers of old wallpaper and walls that were unfinished underneath the paper (the 2 family house is old). Victor Manjivar and his crew of 3 showed up according to schedule, stripped all the paper and pefectly prepared and calked the walls. He kept to the timeframe of 1 day, showed up when he said he would and price was good. Clean and professional too. Nice team of people. I wish every worker I had in the house did this quality of work and committment (and I've had lots done..short of building a completely new house). I only wish I had found him before I renovated my downstairs unit!! Excellent hire him!?"

Donna Marie Contos, Wallpaper Removal and Painting in Quincy, MA

2015-08-31

5★★★★★ - "I've hired Menjivar's Painting three times, and every job has been done to perfection. Very responsive, super high quality, and done on time every time. We just had our house painted in advance of going on the market, and our real estate ...More I've hired Menjivar's Painting three times, and every job has been done to perfection. Very responsive, super high quality, and done on time every time. We just had our house painted in advance of going on the market, and our real estate agent even commented on what a beautiful job he had done and asked for the name of the firm. We have recommended him to friends and strongly recommend him to anyone in need of any kind of painting."

Kevin Nicholas, House Painting in Revere, MA

2015-08-31

5★★★★★ - "My Design Build firm has hired Menjivars painting for several projects. Victor is very professional and easy to work with."

Thomas Buckborough, Painting in Revere, MA

2015-08-31

5★★★★★ - "Victor and his associate did an excellent job painting my condo.  I would highly recommend them to anyone looking for an honest and professional painter." Eric Sanchez"

Anonymous, Painting in Revere, MA

2015-08-31

5★★★★★ - "Victor gave us a prompt and fair quote for a power wash and paint job for our fairly weather beaten cedar shingle sided house. We were debating between vinyl siding or a paint job. A few contractors had told us that the shingles would not look good with paint since they were a bit aged. Victor assured me that we would be happy with the final outcome. Victor and his crew were on time and all business when they arrived. They worked hard, cleaned up after themselves, and were very receptive to our needs. Victor replaced some of the damaged shingles and nailed a few others down. The final outcome was more than we could have hoped for. It looks like a brand new house. I give Menjivar's Painting my highest recommendation and I will use them again.
THANK YOU VICTOR!!!"

Mario Fernandes in Hull, MA

2015-06-17

5★★★★★ - "I was very pleased with the work Victor and his men did for me. Victor was very professional and did a great job! I would recommend him and his men without hesitation!"

Debra K., Exterior Painting in Revere, MA

2015-04-17

5★★★★★ - "Very professional. Showed up when they said they would. They did a wonderful job.!!! Only took them one day and couple of hours to paint 3 rooms (to include the ceiling). I would definitely hire these guys again!"

Karen K., Interior Painting in Revere, MA

2015-04-17

5★★★★★ - "Victor is a fair, honest guy and the job came out exactly as previously agreed upon with absolutely no headaches. Clean work site also, I would absolutely recommend him to work for you. The price he gave was also lower than any other I received."

John M., Painting in Somerville, MA

2015-04-17

5★★★★★ - "Good guys!"

Andy G., Painting in Malden, MA

2015-04-17

5★★★★★ - "Very professional. Completed the job in the time frame stated. Good communication regarding setting up date for job. Good guys. Will use them again."

Lynn S., Painting in Brookline, MA

2015-04-17

5★★★★★ - "Hired Menjivar's Painting for a smaller job of gutter cleaning, which was done extremely well. Would definitely hire them again, for house painting too. Excellent."

Alex T. in Lexington, MA

2013-12-09

5★★★★★ - "Victor was a pleasure to deal with from start to finish of job. He painted the exterior of my two family quickly and efficiently with two workers besides himself. They were all neat and respectful and quiet. The pricing was reasonable, and the house looks fantastic. He also did some interior painting which looks great. I have just hired him to do the ceiling of the living room."

Renee D. in Roslindale, MA

2013-12-09

5★★★★★ - "There are two people that have to be pleased when we hire a contractor . My wife, for the neatness of their work, and me for the price and workmanship. these guys his hit it out of the ball park."

Eugene M., Painting in Somerville, MA

2013-12-05

5★★★★★ - "Very professional, on time for both coming to give us a quote and on the day of the project start. Did all the retouches I asked for without questioning and was very pleasant the whole time. I would definitely use them again."

Painting in Arlington, MA

2013-12-05

5★★★★★ - "I hired Menjivar painting to paint the interior of my home earlier this year and they did a great job. They painted my house within a week and were detailed and very neat. Victor is very professional, has great follow-up skills and worked well with our schedule. I had bid out the job to a few others and Victor's price was competitive and fairly priced. After my house was complete, I hired him to do my condo as well. He comes highly recommended! Keep up the great work!"

Adrienne M. in Boston, MA

2013-06-17

5★★★★★ - "I came across Menjivar's Painting by accident--I found the company during a search for gutter cleaning services. I was so impressed by the focus, work ethic and attention to detail I immediately asked Victor if Menjivar's could paint our entire home. He also helped us convert cheap plastic shutters to real wooden shutters. Victor sourced different wooden shutter manufacturers, provided us with quotes, project planned their construction and timed delivery of the painted shutters perfectly with the completion of exterior painting of our entire home. He did a great job, right on schedule, at a fair price, with little or no inconvenience to our family. I would recommend Menjivar's Painting to anyone needing residential painting or home improvement services."

Alan K. in Lexington, MA

2013-06-17

5★★★★★ - "I hired Menjivars Painting to paint my kitchen and utility area. They were extremely professional and very highly skilled, getting every nook and cranny painted to perfection (in some very tight/difficult spaces). The result is outstanding, they were bang on time to start the job, and were meticulous with every detail. Will definitely be hiring again."

Kevin N. in Arlington, MA

2013-06-17

5★★★★★ - "I came across Menjivar painting by accident—I found the company during a search for gutter cleaning services. I was so impressed by the focus, work ethic and attention to detail I immediately asked Victor if Menjivar could paint our entire home. He also helped us convert cheap plastic shutters to real wooden shutters. Victor sourced different wooden shutter manufacturers, provided us with quotes, project planned their construction and timed delivery of the painted shutters perfectly with the completion of exterior painting of our entire home. He did a great job, right on schedule, at a fair price, with little or no inconvenience to our family. I would recommend Menjivar painting to anyone needing residential painting or home improvement services."

Alan K

2013-06-03

5★★★★★ - "My husband and I had been nervous about hiring a painting company to work on the exterior of our antique farm house. Victor and his crew put our minds at ease! They were professional, punctual, and SO incredibly hard-working. They were even faster than we had expected, and the results were fantastic. Many of our neighbors have been commenting on how great the house looks and how organized the painting crew was. We couldn't be happier and we highly recommend Menjivars Painting to anybody who wants a fast, reasonably-priced, high-quality job. Thanks again, Victor!"

Anonymous

2012-12-13
---
Call for FREE Deck Staining Quote
---